Dental Implants in Connecticut for Natural and Confident Smiles
Dental implants are a good choice for replacing missing teeth and restoring a beautiful smile.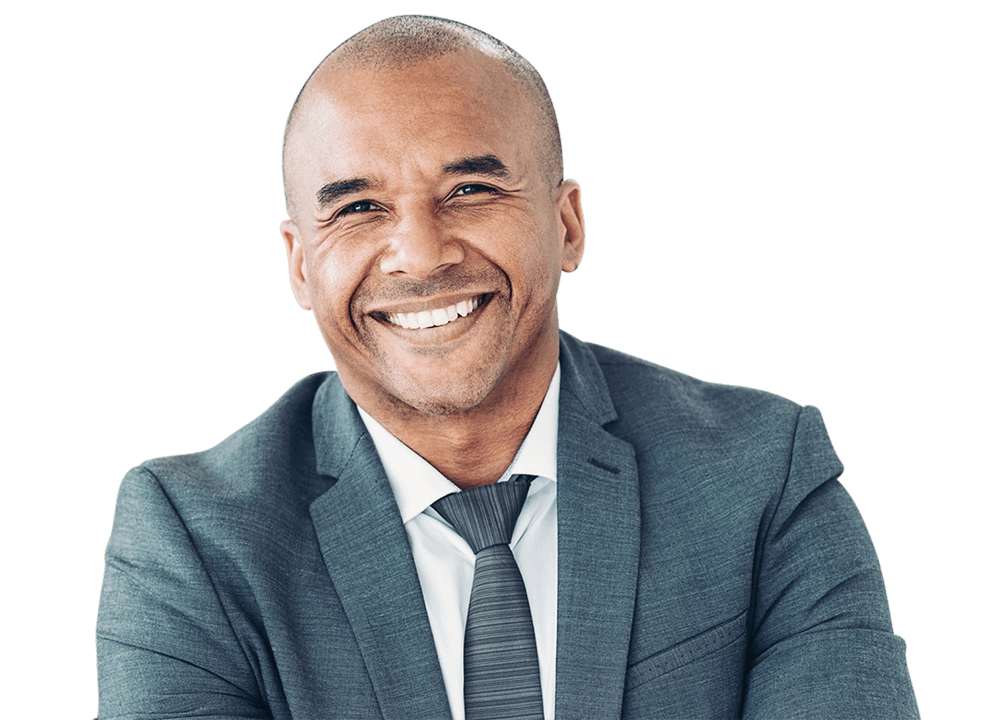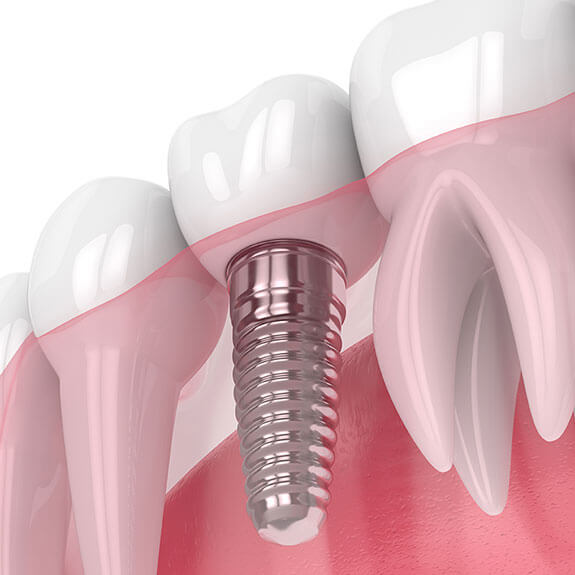 Why Implants?
Why would someone want to get dental implants?
Dental implants are an excellent solution to:
Restore a confident smile
Improve chewing, speech, and digestion
Resolve bite
Problems caused by teeth shifting into a missing tooth space
Restore or enhance facial tissues
Support a bridge or denture, making them more secure and comfortable
What to Expect
Before

Treatment

We know that no one looks forward to going to the dentist. However, our goal is to make your visit as comfortable as possible. We treat you like family and believe that your comfort is part of quality dental care. Before you get dental implants, make sure to get a good, thorough cleaning. The process of dental implant placement requires several visits over a few months. X-rays and impressions (molds) of the jaw and teeth are taken to determine bone, gum tissue, and spacing available for an implant.
During

Treatment

During a dental implant treatment, the doctor will numb the area, and while it is numb, the implant will be surgically placed into the bone and allowed to heal and integrate itself. A second surgery may be required to place the "post" that will hold the artificial tooth in place.

After a few weeks of healing, the artificial teeth are made and fitted to the post portion of the anchor. After a healing period, the artificial teeth are securely attached to the implant, providing excellent stability and comfort to the patient.
After

Treatment

You will receive care instructions when your treatment is completed. Good oral hygiene, eating habits, and regular visits to our dental clinics will aid in extending the life of your new implant.
Your First Visit
Your first visit will consist of working with your dentist to determine the appropriate dental implant treatment plan. You will have x-rays and impressions done to find the proper placement for the implant. Be sure to ask your dentist about any questions or concerns you have during this visit.

Modern Dentistry
All the latest technology can be found at both our Groton and Willimantic dental offices.

Judgment-Free Office
We're here to help you feel confident in your smile. We provide a safe, judge-free zone for any dental issue or concern you have.

On Your Schedule
Taking care of your dental health should fit within your schedule. We are open late and on weekends so you can get the care you need.
Are you worried about the cost of a visit to get partial or full dentures? Don't panic. We work with over 200 dental insurance plans and offer flexible payment plans for your convenience.









No Insurance?
No Problem.
Making An Appointment Is Easy
Don't have insurance? That's not a problem with us. We offer payment plans and accept most major credit cards, personal checks, and more.
Groton dental group is the most professional and courteous dental office I have ever had the experience of being a patient of. Dr. Dennis Flanagan and his entire staff are incredible! Thank you for making my dental work pain free and for giving me the confidence to smile in public once again
Dr. Flanagan and Dr. Dougherty are kind and caring. They do not rush you and give you time to state your concerns. You leave with a smile. I would definitely recommend Groton Dental to everyone but especially to those with a dental phobia.
Absolutely love my Hygienist , Dentist and the entire staff. Never have a bad experience. Always take time to explain what is going on and willing to work with you on every level.
I have had the best Dentist for 21 years, Dennis Flanagan, he is very good, extremely professional and a master with root canal, crown and implants. The stuff that works over there are very friendly and they have a lot of patience. They are the best in Groton.
I had an appointment last week but was running late. The staff was accommodating and friendly. Lisa was welcoming and helpful by assuring me I'd still get in to keep my appointment. Lisa as always went above and beyond. I've been a loyal patient for 5 years and love the staff and doctors.
Great dental office! I've been going here basically my entire life (over 30 years) and they have always been amazing! Friendly staff and great service!
When you need emergency dental care...you call Groton Dental Group. Fast, efficient, caring, and professional.
My experience with Tori was the best!!! She was super gentle with my teeth and even offered me some numbing gel when they were sensitive. I have never had someone so concerned with my comfort while cleaning my teeth. She's the only one I trust with my teeth now!
Once again Dr Green hit the high marks for her caring gentle dentistry! I'm having my 2 front uppers capped after 70 years of use and she is able to make the process, if not enjoyable, at least as comfortable as possible. I enjoy that she shares the step by step with me and isn't opposed to adding a little light humor.
Doctor Green is the Best! Very professional, lovely person and number 1 ! She is making every visit so memorable! Love to come to Groton dental group just to see her!
FAQ
Frequently Asked Questions
What technology is used for dental implant placement?
The dentist that performs the procedure should have the latest 3D digital technology, which will allow him/her to mark the nerves and 'plan' the implant site. This technology shows the exact location, depth, and angle of the implant prior to placing it in the mouth. An implant guide is created from the data, which is used to 'guide' the drill into the bone ensuring the proper angle, depth, and placement.